It's the season of
statement belts
and it will be a shame if you miss out on this one! The midnight crown peplum statement belt stands true in its name and adds a definite punch to any outfit it is accessorized with. The belt has a waist accentuating upper belt that is made up of comfortable elastic and a peplum design for the lower part that is made up of hand embroidered tulle for a royal and glam look.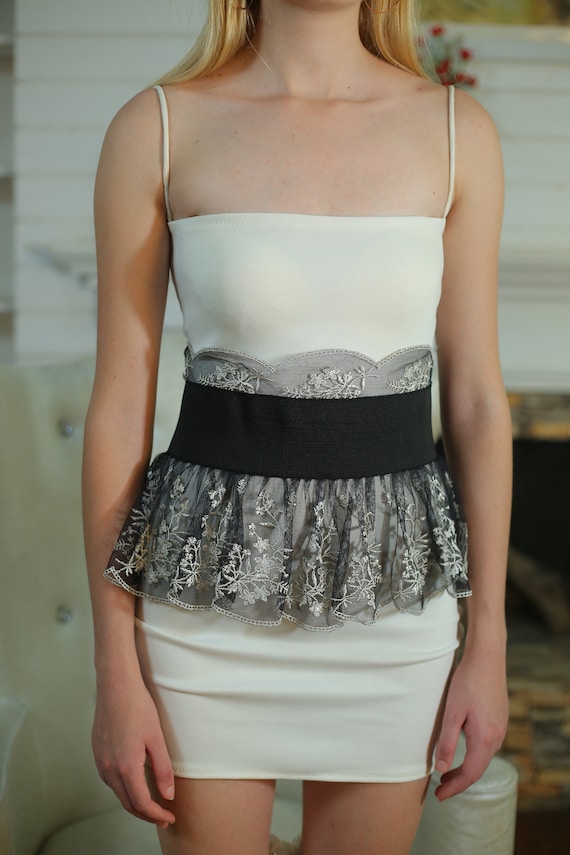 Belts were introduced as a functional accessory ages ago and ropes leather straps etc included the very first belts. Their main function was to fasten clothes in place securely. The modern day statement belts however, have evolved and have gathered another aspect to it besides pragmatism and that is aesthetics. Statement belts nowadays are not only used to fulfill their practical functions but also to enhance the appearance of the wearer by acting as an important accessory for any ensemble.
This peplum belt stands honest to these aspects of belts and also adds a royal, feminine, touch to it with the use of soft thread embroidered tulle. The belt comes in black elastic and hand embroidered lace which ensures it's compatibility with a wide range of colors and styles of clothes. It has a tie up feature at the back which is also made of the same lace adding to the grace of the belt.
The belt can be accessorized with a plethora of outfits be it simple tube dresses, gowns, bodycon dresses, gowns, skirts, jeans, and tank tops, tube or halter tops etc depending on the desired look.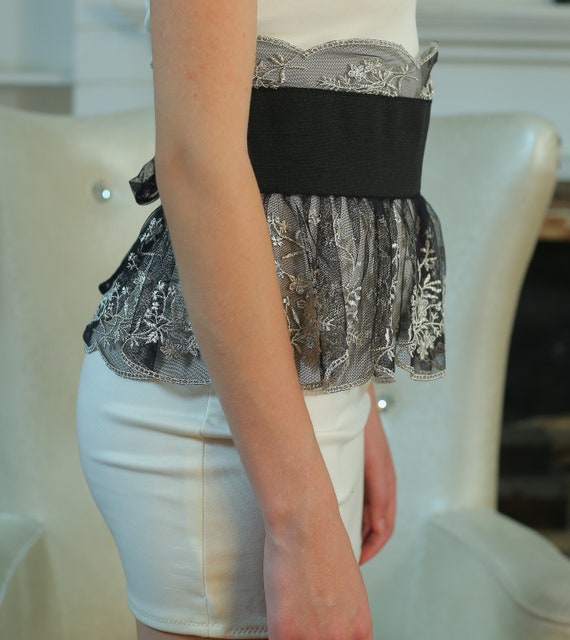 Try it out with a nude tube or sheathdress where it can be used to cinch at the waist and give a curvy look. This formal look can be finished off with a pair of flattering
statement heels
and some black stone earrings for a stunning formal party look. The peplum belt can be paired with a sequined white or light colored pencil skirt and contrasting lacey slip or a padded bralette.It can further be coordinated withstatement heels like the ones adorned with pearls and handmade motifs.
The midnight statement belt can also be paired with your everyday jeans and an ivory colored tank top, complete the look with a pair of the statement heels mentioned above. It can also be paired with neutral colored dress like a grey sweater dress and matching accessories for a simple casual look.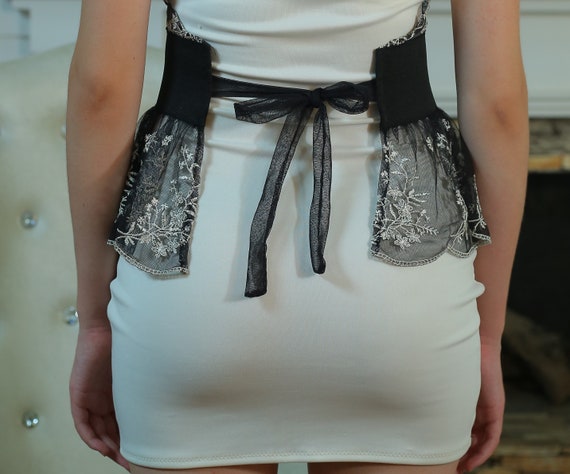 Another way to style it to perfection would be to style it (as shown in the picture), with a pair of white slip dress, a pair of nude/ivory statement heels and some sleek earrings that fall to your collar bones. While styling this lovely one of a kind belt remember that it is likely to work best with fabrics that have less work / embroidery / motifs on them, since the belt in itself is so intricately designed.
If you love this belt, login to your Etsy account and get this limited edition piece from the Kerry Parker Store today!